During the years from 2011 to 2014, we have been working on DICON project "Development of new advanced systems of dimensional control in high impact sectors, it has been funded by the Ministry of Economy and competitiveness, and on the National Plan of Scientific Investigation, Development and Technology Innovation, under the INNPACTO program with the expedient number IPT-2011-1191-020000. And cofunded by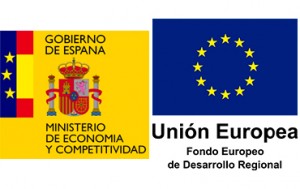 The DICON project has been coordinated by DANOBAT, S. Coop. It had a duration of four years and we have been working with the next partners: DANOBAT, Industria de Turbo Propulsores (ITP), Metrologia Sariki, Soraluce, Metromecanica, Centro Tecnologico IK4-IDEKO, Universidad de Santiago de Compostela y Univesidad de Zaragoza.
Dicon raises the development of a new product generation, services and processes for dimensional control which are going to be integrated in an effective manner into the different phases of manufacturing of components of large volume and dimensions.